Cancer, Primary and Recurrence Prevention: The Mediterranean Diet
Written by Dr Vasilev
Thursday, 06 December 2007 13:11
Studies suggest that a natural anti-oxidant diet rich in fresh fruit and vegetables protects from the risk of most common epithelial cancers, including those of the digestive tract, and also several nondigestive neoplasms. This may have implications for both primary prevention of cancer AND getting you on track for what is perhaps a scientifically sound strategy to prevent recurrence!
Last Updated on Monday, 11 February 2008 10:21
Read more...
How to Research YOUR Cancer Online!!
Written by Dr Vasilev
Sunday, 15 July 2007 18:50
There is an overwhelming amount of information on the internet !! You need answers much FASTER than it would take to browse through all of the web and decide what is great and what is garbage!
Dr. Glenn Sheiner has put together a truly comprehensive phenomenal FREE Ebook and video tutorial set to get you the information you need online rapidly!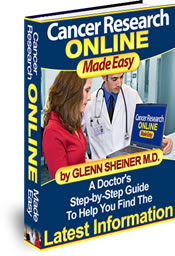 This product is composed of an 147 page Ebook and 5 "step-by-step" video tutorials. In the Ebook, he shows you what information you need to know, what sites to go to, and exactly what to do when you visit these sites. In the video tutorials (see index to the left of the e-book pages and go to the APPENDIX ), you'll actually watch a computer screen and hear the physician's voice as he teaches you step-by-step how to search for the latest cancer information.
This is a MUST READ!!

Last Updated on Monday, 11 February 2008 06:57
<< Start < Prev 1 2 3 4 5 6 7 8 9

10

Next > End >>


Page 10 of 21